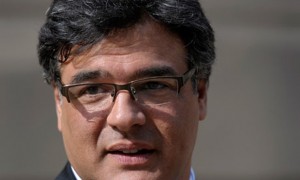 The only ex-CIA officer to suffer consequences for the U.S. torture program comes to North Carolina Oct. 27-29, 2015.
John Kiriakou is a former high-ranking CIA counter-terrorism officer and the first U.S. official to confirm the CIA was torturing its detainees by waterboarding them. As a whistleblower, Mr. Kiriakou served nearly two years in a Federal correctional facility.   Read more of Mr. Kiriakou's story at his website or here.
In April 2015, Mr. Kiriakou exposed the controversy within the CIA over the U.S.' secret detention and rendition to torture in Syria of Canadian citizen Maher Arar. In September, it was announced that Canadian authorities have brought criminal charges against a Syrian official for Mr. Arar's torture.
Later this fall, Mr. Kiriakou will receive the prestigious First Amendment Award from PEN Center USA, the writers organization. It is an honor to have this patriotic American in North Carolina, where he will discuss accountability for CIA torture in the wake of the Senate torture report.  His schedule so far:
Tues., Oct. 27, 2015
Noon:  The State of Things, WUNC
2:00 pm talk, Great Hall, North Carolina Central University Law School, Turner Law Bldg, 640 Nelson Street, Durham. Free and open to the public; more info at 919-599-1963.
7:15 pm talk- "Keeping Government Honest: Whistleblowers, Torture, and America's War on Terror."Freedom Forum Room, 2nd floor of Carroll Hall, School of Media & Journalism, UNC-Chapel Hill. Includes "newsmaker" interview by David Crabtree, award-winning anchor & reporter, WRAL-TV. Sponsors: UNC School of Law Human Rights Policy Lab; Center for Media Law and Policy; Peace, War, and Defense; Center for Global Initiatives; and NC Stop Torture Now. Free and open to the public.
Wed., Oct. 28, 2015
11:00 a.m. buy-your-own luncheon with informal discussion at Guilford College, 5800 W. Friendly Ave., Greensboro; gather in the Atrium of Founders Hall; followed by:
1:00 pm talk in Moon Room of Dana Auditorium, Guilford College, Greensboro.  Sponsor: Friends Center.
7:00 pm talk, "Blowing the Whistle on CIA Torture," at Quaker House, 223 Hillside Ave., Fayetteville.  Sponsor: Quaker House, 910-323-3912.
Thurs., Oct. 29, 2015
1:10-2:10 pm talk- NCSU Peace & Justice Forum, Talley Student Union, Room 3285, NCSU. Sponsor: Presbyterian Campus Ministry of Raleigh. All welcome.
7:00 pm talk, "The American Legacy of Torture," NCSU, Park Shops 210 (2310 Stinson Drive, Raleigh). Sponsors: NCSU Political Science Department; School of Public & International Affairs (SPIA); University Scholars; Caldwell Fellows; and NC Stop Torture Now. Event is free and open to the public.
Mr. Kiriakou's tour is hosted by North Carolina Stop Torture Now and co-sponsored by Movement to End Racism and Islamophobia (MERI) and Balance and Accuracy in Journalism.
Flyer: John Kiriakou speaking engagements, Oct 27-29
Quaker House John Kiriakou flyer