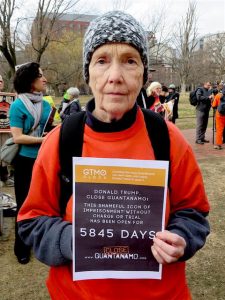 Joan Walsh, an anti-torture activist from North Carolina, with North Carolina Stop Torture Now, calls on Donald Trump to close Guantánamo at the annual rally outside the White House on January 11, 2018, the 16th anniversary of the opening of the prison. She was supporting the new Close Guantánamo initiative, counting how many days Guantánamo has been open — a shocking total of 5,845 days on the anniversary.  (From Close Guantanamo)   
Joan's report follows:
NCSTN members Peggy Misch and Joan Walsh went to DC for the 16th-anniversary Close Guantánamo event this year.  The rally took place at 11:30 a.m. near the south end of Lafayette Square.  In prior years, this demonstration was held in the street, but since April 2017, the block of Pennsylvania Avenue in front of the White House has been closed off.
Coalition members for the event included Amnesty International, the Center for Constitutional Rights, Close Guantánamo, CodePink, the Council on American-Islamic Relations, Defending Rights and Dissent, the Justice for Muslims Collective, the National Religious Campaign Against Torture, No More Guantánamos, Reprieve, September 11th Families for a Peaceful Tomorrows, the Torture Abolition and Survivors Support Coalition, Veterans For Peace, Voices for Creative Nonviolence, Witness Against Torture, and World Can't Wait.
Approximately 250 to 300 people attended, more than in recent years.  Around 25, including Peggy, wore orange jump suits and hoods.  Many of the latter held placards reading "41," the number of men still held at Guantánamo prison, five of whom have long been cleared for release.  Short speeches were followed by a "tea ceremony" in which jump-suited participants drank from cups, each labeled with a detainee's name, then placed them in a row near the curb while that person's name was read.  After that, five jump-suited participants, three women and two men, crossed the yellow tape along the curb and were arrested in the middle of Pennsylvania Avenue.  Police began searching and processing them while the rest of us sang, and this continued for some time.  The arrestees were sitting in obvious discomfort on the far curb, and it appeared the police did not want to remove them until we dispersed.  The demonstration was disbanded at about 1:30.
Here is a link to Andy Worthington's report of the event, including a short video of remarks from Mark Fallon, Pardiss Kebriaei of CCR, and Andy.
Peggy and Joan then attended a panel presentation held at New America, 740 15th St.  Speakers were Karen Greenberg, Director of the Center on National Security at Fordham Law School, Andy, and Tom Wilner, a lawyer who co-founded Close Guantánamo with Andy and currently represents a detainee at Guantánamo.  You can also view this 90-minute presentation at the above link; the video does not include the lively question/answer period that followed.  At least 100 people attended, and Andy noted the audience was much bigger than it had been in recent years.  All in all, it was a very worthwhile day.
Last but not least, that same day a new habeas petition was filed by CCR on behalf of 11 prisoners, two  of them among the five cleared.