Local Accountability?
The Who, What and Where Game Revisited.
North Carolina Stop Torture Now hosted a press conference and vigil covered by the News & Observer to call upon North Carolina's elected officials to investigate our state's role in torture in light of Senate torture report revelations.
Featured Speakers were: Rev. George Reed, Executive Director, North Carolina Council of Churches — Raleigh; Prof. Deborah Weissman, Reef Ivey II Distinguished Professor, UNC School of Law — Chapel Hill; Matthew Hoh, Senior Fellow at the Center for International Policy; veteran of the Marine Corps and the Department of State; former Director of the Afghanistan Study Group — Raleigh; Chuck Fager, North Carolina Stop Torture Now, retired Executive Director of Quaker House in Fayetteville — Durham.
The press conference echoed Bob Geary's reporting in The Independent Weekly on our efforts.
---
Senate Torture Report Names At Least 17 CIA Detainees Transported by Aero Contractors for Torture
The recently released summary of the Senate torture report validates what North Carolina Stop Torture Now (NCSTN) and other Tar Heels have been saying since 2005:  North Carolina has long been deeply involved in clandestine CIA torture and rendition.  At least 17 of the CIA detainees named in the Senate report were secretly transported by Aero Contractors aircraft based in Smithfield or Kinston, NC.
However, 17 more named survivors and victims transported to torture by the CIA using Aero Contractors planes and pilots do not appear in the released portion of the Senate report.
"In fact, the words 'North Carolina' appear nowhere in what was released on Tuesday," said Christina Cowger, NCSTN's coordinator.  "Much survivor information remains secret.  But flight logs and other data show that many torture flights originated here, and we call for release of the full report to see if more information about survivors and flights is in it."
"We also call on federal and North Carolina authorities to immediately launch vigorous investigations into the illegal torture-related activities and conspiracies now established as taking place in North Carolina," Cowger said.
The CIA and perhaps other government entities maintained vital rendition infrastructure in our state for many years.  Two North Carolina public airports functioned home base for planes that brought detainees to secret prisons where they were held indefinitely and interrogated under often-brutal torture.
Further, the firm Blackwater was headquartered in Moyock, NC, during the height of extraordinary rendition.  The New York Times quotes a former top CIA officer as saying, "It became a very brotherly relationship.  There was a feeling that Blackwater eventually became an extension of the agency."   Blackwater changed its name to Xe Services in 2009 and then to Academi in 2011.
The names of 119 CIA detainees appear in Appendix 2 (on p. 458) of the Senate's summary, and we learned some of those names for the first time on Tuesday.  Yet other well-known survivors of CIA extraordinary rendition are not on the published list, including:
As the international human rights organization Reprieve commented, "This is a good start, but it is far from the whole picture.  The names of many victims of rendition and torture are absent."
Can we expect that incoming Senate Intelligence Chair Richard Burr (R-NC) will act for torture transparency?  When asked if he saw any kind of follow-up to the report, Sen. Burr told McClatchy, "No. Put this report down as a footnote in history."
Sen. Burr also called the report "a blatant attempt to smear the Bush administration" and "flawed, biased, and political in nature."
---
Senate Intelligence Releases Portions of Landmark Torture Report; Will North Carolina's Role in Torture Be Addressed?
North Carolina Stop Torture Now welcomes today's release of the historic report on CIA torture by the U.S. Senate Intelligence Committee.  The report validates what human rights investigators and journalists have demonstrated for a decade:  the CIA conducted a years-long, illegal, and immoral program of torture that has cost our nation terribly in lost credibility, the enmity of millions around the world, and the undermining of our democracy.
The report has special significance in the Tar Heel state for two reasons.  First, Senator Richard Burr is poised to become Chair of the committee in January.  Sen. Burr voted to release the report, but at the same time signaled his intention to attack its conclusions.  Second, North Carolina is deeply involved in the human rights abuses described in the report (details below).
"It is not only the obligation of the federal government to commit to transparency and accountability for torture, but our state and its political subdivisions  are also required to provide facts and details about torture and to accept responsibility for human rights violations," said Prof. Deborah Weissman, UNC School of Law.  "The Convention Against Torture and other treaties oblige us to uncover and take responsibility for our state's role in the systematic torture of human beings, now confirmed by the Senate report."
In addition to grassroots activists, prominent North Carolinians have been calling for torture transparency.  More than 190 faith leaders wrote to Sen. Richard Burr in 2013, calling on him to support release of the Senate torture report.  In addition, over 1,200 North Carolinianshave called for an inquiry on North Carolina's role in torture.
North Carolina and CIA-Directed Torture
Although the report's executive summary is coming out, North Carolina's connections to torture may be buried in the body of the report itself.  A large volume of evidence has been compiled by journalists and human rights investigators:
North Carolina has been extensively involved in torture in contravention to state, federal, and international law, particularly by sustaining key aviation infrastructure for extraordinary rendition at our public airports.  The Johnston County Airport has hosted Aero Contractors since 1979, and Aero remains the airport's largest tenant.  In 2005, the New York Times exposed Aero as "a major domestic hub of the Central Intelligence Agency's secret air service."  Aero-operated craft secretly flew detainees to torture chambers in Jordan, Egypt, Syria, Afghanistan, Morocco, and Libya.  They also repeatedly visited the CIA black sites in Poland and Romania where torture was performed directly by U.S. officials.  Documentation was supplied to public officials and the media in this 2012 report.
NC-based planes and crews played key roles in the CIA rendition program.  One of the planes operated by Aero (N379P) was a Gulfstream V jet nicknamed the "Guantanamo Express."  For a critical period during the height of the rendition program, Aero also operated a Boeing business jet (N313P) from a hangar it built at the Global TransPark in Kinston.  Together, these two aircraft conducted dozens of missions in which incapacitated detainees were taken secretly to prisons where they were held indefinitely and without access to lawyers, family, or the Red Cross.  There, they were interrogated using torture.  Highly skilled pilots and crews operated and maintained these aircraft, likely with full knowledge they were working for the CIA.  The names of several of the pilots have been in the public record for many years.
Many of the detainees transported to torture by Aero were clearly innocent, were never given due process, and were profoundly damaged.  Those who survived still suffer deeply.  This includes Khaled el-Masri, a German citizen of Lebanese descent; Abou ElKassim Britel, an Italian citizen of Moroccan descent; Binyam Mohamed, a UK legal resident of Ethiopian descent; Khaled al-Maqtari, a Saudi national detained in Iraq; and many more.  These men were subjected to brutal treatment.  They were strung up in painful stress positions for long periods and endured vicious beatings including to their genitals and torso.  They suffered prolonged detention in complete darkness, or were bombarded with blasting sounds.  So far, human rights investigators have documented that over 135 persons were subjected to extraordinary rendition.  Over 30 of these people – and probably many more – were rendered on flights originating at Smithfield or Kinston, NC, as documented by flight logs and other data here.
Since 2005, concerned citizens have repeatedly contacted North Carolina's elected officials with information about the state's role in torture.  With the release of the Senate Intelligence report on torture, there can be no excuse for public officials to refuse to address responsibility and accountability for North Carolina's role in such serious human rights violations.
---
Nationally Noted Theologian, Dean of Duke Chapel, and Local Human Rights Advocate Speak on Torture Accountability
About 50 people gathered at Pullen Memorial Baptist Church, Tuesday, June 24 2014, to hear noted theologian Dr. David P. Gushee offered a talk on "Coming to Terms with Torture: Truth, Accountability, and Reconciliation."
Gushee is the Distinguished University Professor of Christian Ethics and the Director of the Center for Theology and Public Life at Mercer University and previewed themes from his talk during an interview on the WUNC 91.5 FM program The State of Things. Gushee's position on the need for the U.S. to apologize to victims and survivors of the post-9/11 torture program was also featured in a story published June 26 by the News & Observer and also carried by the Stars & Stripes, a news publication targeting an U.S. military audience.
During his talk, Gushee summarized some of the key findings of a bipartisan, blue-ribbon Task Force on Detainee Treatment convened by the Constitution Project on which he served.
It troubles Gushee, he said, that the issue of U.S. torture has "fallen off the national radar."
He emphasized his belief that it is "unworthy of a great democracy like the United States not to tell the truth about such issues."
To " … acknowledge such shortcomings strengthens rather than weakens the United States," Gushee said.
Gushee particularly emphasized his belief that it is time for truth, accountability and renunciation.
As Gushee told the News & Observer: "Individuals right now can ask the White House to get the Intelligence Committee report released as soon as possible … "
The Constitution Project's Task Force on Detainee treatment issued a 600-page report in April 2013, which called upon Americans of all political ideologies to recognize that the U.S. has engaged in systematic torture, that its use was ordered by our highest elected officials, and that as Gushee noted, this "half-hidden liturgy of torture … and ritualized destruction of minds and bodies … " produced no actionable intelligence.
And, Gushee said, even if the goal was to gather intelligence, " … good intentions do not relieve our leaders of the obligation to respect the rule of law."
In anticipation of the United Nations' International Day in Support of Victims of Torture, June 26, North Carolina Stop Torture Now Coordinator Christina Cowger spoke primarily about our group's campaign to urge the highest officials in 4 nations to apologize and offer meaningful restitution to one victim of the extraordinary rendition, secret detention and torture.
Cowger also echoed Gushee's concern for the most prompt and fullest release of the Senate Select Committee on Intelligence report on detainee treatment, which reliable sources say will contain extensive and damning details of the U.S. torture program and considerable detail on North Carolina's support of the extraordinary rendtion program.
The Rev. Luke Powery, Dean of the Duke Chapel, opened with a powerful, acapella performance of a spiritual song that raised a few voices from the audience and moved others to sway gently. Afterwards, he offered reflections on the links between the post-9/11 torture program and the long history of the torture of slaves in the United States. Powery concluded by emphasizing the immorality of disregarding the sanctity and value of human life and particularly the human body, drawing powerful imagery from the story of Jesus' crucifixion.
The event was hosted by Pullen Memorial Baptist Church and co-sponsored by the North Carolina Council of Churches, The Constitution Project, National Religious Campaign Against Torture, KARAMAH: Muslim Women Lawyers for Human Rights, and NC Stop Torture Now.
---
Two Dozen Activists Renew Call on President Obama to Close Guantánamo!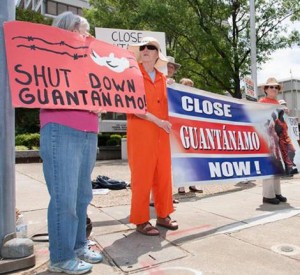 Nearly two dozen activists and allies of North Carolina Stop Torture Now (NCSTN) gathered for a Global Day of Action to Close Guantánamo and End U.S. Torture on May 23, 2014 at the Terry Sanford Federal Building, 310 New Bern Ave., in Raleigh.
The vigil, covered by ABC-11 television and the Raleigh News & Observer, marked the one-year anniversary of President Obama's most recent promise to close the prison camp at Guantánamo. His pledge came in response to the mass hunger strike by men protesting their indefinite detention and to the renewed, global condemnation of the prison.
Recently, District of Columbia Federal District Court Judge Gladys Kessler suspended her order that the military to stop force-feeding a hunger-striking detainee at Guantánamo Bay, Cuba, noting that " … because of the Pentagon's 'intransigence,' or refusal to compromise, 'Mr. Dhiab may well suffer unnecessary pain from certain enteral feeding practices and forcible cell extractions. However, the Court simply cannot let Mr. Dhiab die."
In an earlier order, Judge Kessler directed the military not to destroy videotapes showing previous force-feeding of the detainee, Jihad Ahmed Mujstafa Diyab, a Syrian held at Guantánamo for 11 years and nine months at the time of her order.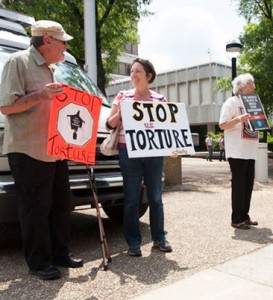 Cori Crider, a defense attorney for a Syrian detainee, noted that:
President Obama " … could put my … client on a plane today if he had the will to do it."
Of the 780 people who have been detained at the United States military prison at Guantánamo Bay, 639 have been transferred and 132 remain according to analysis by The New York Times. Nine detainees died while in custody.
"Look at the current situation, where we are force-feeding detainees who are being held on a hunger strike . . . Is this who we are?"
–President Barack Obama, May 2013
It is unknown how many prisoners continue to hunger-strike, but reports indicate as many as 46 may be refusing food, and many are being subjected to forced feeding—a practice condemned by international human rights organizations, medical associations, and members of the U.S. Congress. New lawsuits in U.S. courts lay bare the extreme cruelty of the forced feeding at Guantánamo. To quell the public outcry against the prison, the U.S. military in December 2013 stopped reporting the numbers of hunger strikers. More recently, it has classified their protest, in Orwellian fashion, as "long term non-religious fasting."
Sadly, as we pass the anniversary of yet another broken promise, this is what the United States remains—a country that continues to indefinitely detain and brutalize the men at Guantánamo. Grassroots activists, human rights organizations, and advocates for the detained men call on people throughout the United States and the world to hold President Obama accountable to his promise.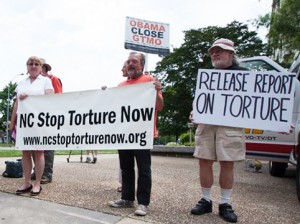 Together, we must continue to say: "Not another broken promise. Not another day in Guantánamo!"
The action was coordinated by Witness Against Torturein collaboration with Amnesty International, the National Religious Campaign Against Torture, Veterans for Peace, World Can't Wait, and the Torture Abolition and Survivor Support Coalition.
---
Report and Declarations Delivered to Top State and County Law Enforcement Officials
JANUARY 19, 2012, SMITHFIELD, NC – North Carolina Stop Torture Now delivered a University of North Carolina School of Law report Wednesday to representatives of Governor Perdue, Attorney General Roy Cooper, District Attorney Susan Doyle and Johnston County Sheriff Steve Bizzell.
As reported by ABC11-WTVD, the report documents evidence of state and local government complicity in the kidnapping, disappearance, secret detention and torture of dozens—if not hundreds— of men identified as terrorists and including many later cleared of any wrongdoing.
According to numerous and credible reports in national and international media and from legal experts with the United Nations and the Council of Europe, the Central Intelligence Agency relies on Smithfield-based Aero Contractors Ltd. to provide planes and pilots to transport prisoners overseas for secret interrogation using torture techniques.
At a press conference in front of the terminal at the Johnston County Airport shown at the top of the news on ABC11-WTVD, reported on the Web site of the CBS afiliate, WRAL-TV, and the News & Observer, UNC law professor Deborah Weissman told the nearly fifty people gathered: "We would like the state to enact a public policy that recognizes that there is no place for extraordinary rendition in the state or in any of its political subdivisions."
"We would like the state to take all actions to cease facilitating, in any way, shape or form, companies that are complicit in extraordinary rendition and torture," Weissman said.
The press conference followed a morning vigil at the NC Dept. of Administration in advance of a two-hour meeting among representatives of the governor and attorney general and Steven Watt, senior staff attorney for the ACLU's human rights program, and counsel for two men whose description of their torture was included in the report; Professor Weissman and her students; Christina Cowger, of NC Stop Torure Now; and David LaMotte, representing the NC Council of Churches. More than fifty people were on hand for the press conference, including close to 10 Johnston County residents.
Representatives of District Attorney Doyle and Aero Contractors declined to comment on the report.
In the days following the event, coverage also appeared in the Smithfield Herald and on NewsRadio680 WTF(where Christina Cowger was interviewed at ca. minute 38 on a show hosted by Rick and Donna Martinez.
---
800 North Carolinians Apologize to Victims and Survivors of Torture and Indefinite Detention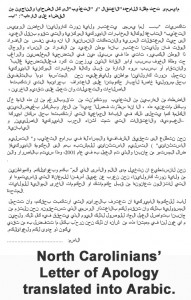 As a report on torture accountability was unveiled in Europe, an open letter to survivors of U.S.-directed torture signed by nearly 800 North Carolinians was being delivered.
In just three weeks during October 2010, North Carolina Stop Torture Now and volunteers at the the Peace Booth collected signatures from residents representing more than 80 communities across North Carolina.
Each individual pledged to work toward a day when the U.S. government will "acknowledge the crimest committed … take responsibility, and offer an apology …" to the victims and survivors.
November 2010 marked the fifth anniversary of the founding of North Carolina Stop Torture Now (NCSTN), the anti-torture coalition and rendition watchdog.  NCSTN has organized protests, petition drives, and legislative campaigns seeking investigation of "torture taxis," the airplanes operated by the CIA affiliate Aero Contractors of Smithfield, NC. An overview of our activities and efforts is available here. To date, most elected officials in county, state, and federal positions have refused to back an investigation.
"As citizens of North Carolina," the letter to survivors states, "we express our deep regret for the suffering you have endured or are continuing to suffer either at the hands of our government or proxy states." North Carolinians feel a special responsibility to reach out to torture survivors, the letter continues, because North Carolina's taxpayer-funded airports have hosted the torture taxis, and the state is home to many who have served in the armed forces or in covert operations. These North Carolinians may themselves have suffered from witnessing or participating in human rights abuses.
From its base at the Johnston County Airport and a hangar at the Kinston Global TransPark, Aero Contractors has operated two airplanes in particular (N379P and N313P) on so-called "rendition circuits." In these circuits, prisoners were handed over to the CIA by European or other foreign governments, Afhgan warlords, or Pakistani bounty hunters, and then secretly shuttled among foreign jails and secret CIA torture facilities.
Despite exposés in such high-profile publications as The New York Times, and calls from North Carolina state legislators for investigation, former Governor Easley, Governor Perdue and state Attorney General Roy Cooper have consistently refused to act.
The letter to survivors was sent to some of the dozens of detainees who have been released after secret detention and torture without charges or apology.
Among the former detainees listed below who received the letter all—except Maher Arar—were rendered on North Carolina-based planes. You can read more about each man by following the link associated with his name:
Maher Arar, Abou El-Kassim Britel, Mohamed Bashmilah, Khaled el-Masri, Binyam Mohamed, Bisher al-Rawi.
---
Torture program scarred many people
(Reprinted from The Clayton News-Star)
Over the past decade, we North Carolinians have experienced war, counterterror and trauma in many forms. Our sons and daughters have fought on the frontlines in Afghanistan and Iraq, and often returned home bearing painful burdens.
Other North Carolinians have taken part in sensitive national security operations, including Special Forces deployments and "extraordinary rendition" flights. And many of us feel outraged at the now-disavowed policies of secret detention and torture.
In Johnston County, interactions over torture have often been adversarial – understandable when so much is at stake. But at the recent conference, it became apparent to us that while North Carolina has played a critical role in the implementation of torture, perhaps there is more to unite us than to divide us.
… a European investigation uncovered chilling details of a secret program based on bilateral agreements between the United States and most European nations.
After leaving their base at the Johnston County Airport or the Kinston JetPort, Aero Contractors jets would stop in Washington, D.C., to pick up CIA "snatch teams." Around the globe, detainees were handed over to those teams in secret to be stripped, beaten, hooded, diapered, shackled, handcuffed and rectally sedated – all in the presence of Aero crews.
Aero Contractors personnel operated aircraft on "rendition circuits," in which prisoners were secretly shuttled among pickup points, foreign jails and secret CIA secret torture facilities. Joining in a systematic coverup, Aero pilots disguised flight plans to help the CIA avoid detection.
Binyam Mohamed, a United Kingdom resident transported to Morocco by Aero Contractors for the CIA, was reportedly held in secret for 18 months and subjected to brutal beatings and slicing of the genitals and torso. He was "rendered" again by Aero Contractors pilots to the "Dark Prison" in Afghanistan, held for many months in complete darkness and kept awake for days at a time by continuous loud sounds.
After years at Guantanamo, Binyam was released without charges – and without acknowledgment or apology from our government.
Some "rendered" detainees disappeared and may have died as a result of torture. Others remain at Guantanamo indefinitely, without a trial. Those eventually released without charges have never received an apology, restitution or any support in trying to make new lives.
Although this history is appalling, the employees of Aero Contractors were not the authors of the "extraordinary rendition" program. They were the pilots, the mechanics and the crew, some of whom themselves may be affected by their involvement with torture.
It is the officials who planned, authorized and justified such unlawful conduct in our names – in contradiction to our proud history of protecting civil and human rights – who should be held accountable.
To do that, we need transparency at all levels.
There must be both justice and healing for all those scarred by extraordinary rendition, and we hope that employees at Aero Contractors can join us on this path.
We at N.C. Stop Torture Now have played our part in adversarial relations with the employees of Aero. While extraordinary rendition has caused serious damage to those who were kidnapped and tortured, as a state and a nation we are all harmed. The United States' walk on the "dark side" of torture and secret detention has robbed us all of our most precious birthrights: the rule of law and our basic value of respect for human life.
Across our differences, what unites us is our desire to be proud of our communities and our country. We all want safety and peace for our children. We all value human life and are ready to stand up for democracy.
Together, we can acknowledge what went wrong and bring it to the light of day. We can seek out those who were harmed, learn what they need, offer apologies and begin to make amends.
–Christina Cowger, Coordinator, NC Stop Torture Now
---