At least 34 CIA detainees were secretly transported by Aero Contractors Ltd., a CIA-affiliated aviation company based in Smithfield, North Carolina.   Of those 34 people, the redacted summary of the Senate Torture Report, released in December 2014, confirmed that 18 were in direct CIA custody during their secret detention and torture.  At least 16 more were secretly rendered by U.S. agents to foreign custody with the understanding that they would be brutally interrogated there.
North Carolina's role in CIA extraordinary rendition was documented in this report from the UNC School of Law, provided to top state elected officials in early 2012.  Flight logs chronicle some of the rendition circuits of two CIA-controlled aircraft that were based in North Carolina,  N379P and N313P.
N379P (re-numbered to N8068V in 2004) was a Gulfstream jet based at Smithfield, NC.
N313P (re-numbered to N4476S in 2004 or 2005) was a Boeing business jet based at Kinston, NC.
Both aircraft were operated by Aero Contractors, as documented by the Rendition Project, the product of collaborative research by Dr. Ruth Blakeley at the University of Kent and Dr. Sam Raphael at Kingston University.  They explain rendition this way:
"Following the declaration of the 'war on terror' in September 2001, the US government led the way in constructing a global system of detention outside the law, illegal prisoner transfers (rendition), and torture. Overall, this system has involved the detention and torture, in secret, of hundreds of detainees, in scores of detention sites around the world. Renditions between detention sites in a range of countries have been carried out using a variety of aircraft supplied by private contractors, and states allied to the US (including several European states) have been actively involved, or passively complicit, in the crimes committed."
The Rendition Project website "aims to bring together and analyse the huge amount of data that exists about the rendition and secret detention programme, and to provide users with a comprehensive picture of how the system operated, how it evolved over time and what happened to those subjected to years of illegal detention and torture."
---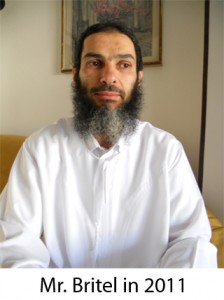 The Case of Abou ElKassim Britel
Abou ElKassim Britel is an Italian citizen taken illegally by United States officials and flown from Lahore, Pakistan to Rabat, Morocco. Kassim is a devout Muslim who sought to share his faith by translating religious texts into Italian.
For eight months, Britel was detained by Moroccan intelligence services. During this time, he was held incommunicado and interrogated under torture that included severe beatings, isolation, sleep deprivation, and death threats against him and his family, before being released without charge.
On his way back home to Italy, Britel was re-arrested by Moroccan authorities.  He was subjected to an unfair trial using a tortured confession, and was given a lengthy prison sentence.
In September 2006, an Italian examining judge found a complete lack of any evidence linking Britel with any criminal, let alone terrorist-related, activity. Subsequently, eighty-seven members of the Italian Parliament petitioned the King of Morocco to have Mr. Britel pardoned, released from prison and immediately returned to Italy.
He was finally freed from a Moroccan prison after 8½ years on April 14, 2011.
During his captivity, his wife, Khadija Anna Britel, courageously carried letters of apology from North Carolinians and reported that he was encouraged to know he was not forgotten.  She subsequently wrote a personal appeal to the Johnston County Board of Commissioners asking for an investigation into the Johnston County community's role in Mr. Britel's disappearance, detention and torture.  The Commissioners declined to respond.
Mr. Britel was one of four plaintiffs, including Binyam Mohamed , Ahmed Agiza, and Mohamed Bashmilah, who joined in a claim against Jeppesen Dataplan, the trip planning contractor for the CIA's rendition missions.  The U.S. Supreme Court refused to hear this claim, thanks to the Obama Administration's insistence on shielding top officials from consequences for the cruelty they inflicted.
A team from UNC School of Law has taken up Mr. Britel's case.  More about the campaign for an apology to Mr. Britel is here.
---