A good resource for understanding rendition circuits, North Carolina links:
"The Rendition Project website is the product of a collaborative research project between Dr. Ruth Blakeley at the University of Kent and Dr. Sam Raphael at Kingston University.
Following the declaration of the 'war on terror' in September 2001, the US government led the way in constructing a global system of detention outside the law, illegal prisoner transfers (rendition), and torture. Overall, this system has involved the detention and torture, in secret, of hundreds of detainees, in scores of detention sites around the world. Renditions between detnention sites in a range of countries have been carried out using a variety of aircraft supplied by private contractors, and states allied to ths US (including several Eurpoean states) have been actively involved, or passively complicit, in the crimes committed."
The Rendition Project website "aims to bring together and analyse the huge amunt of data that exists about the rendition and secret detention programme, and to provide users with a comprehensive picture of how the system operated, how it evolved over time and what happened to those subjected to years of illegal detnation and torture."
---
OCTOBER 7, 2009 – AVIATION SPECIALTIES' N157A MAKES EMERGENCY LANDING AT KJNX
Smithfield, NC – Two pilots safely landed a twin-engine Beech B200C owned by Aviation Specialties and linked to extraordinary rendtion in European Parliament and independent reports from Stephen Grey.
According to local media reports, one of the aircraft's landing gear deployed but did not lock, prompting the flight crew – identified only as Navy veterans, in spite of the courage and skill they demonstrated – to wait for fire and EMS crew to arrive before bringing the plane in with minor damage and no injuries.
No passengers were aboard and, due to the secrecy of the plane's missions, no details on the flight plan were publicized.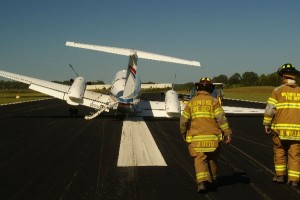 Photo copyright: Carter Rabil / WTSB Radio (2009)
---
FOLLOWING IS A PARTIAL LIST OF DETAINEES EXTRA-JUDICIALLY TRANSPORTED BY AERO CONTRACTORS, LTD., OF NORTH CAROLINA
Source:  'Ghost Plane,' Stephen Grey, http://www.ghostplane.net/timeline
N379P (renumbered to N8068V in 2004) was a Gulfstream based at Smithfield, NC.  N313P (renumbered to N4476S in 2004 or 2005) was a Boeing business jet based at Kinston, NC.  Both aircraft were operated by Aero Contractors Ltd., as documented in 'Ghost Plane' and by the New York Times and other media.  This is by no means a complete list of the detainees secretly transported by Aero Contractors.
10/23/2001 . . . Jamil Qasim Saeed Mohammed, Pakistan-Jordan, N379P
12/12/2001 . . . Ahmed Agiza and Mohammed el-Zary, Stockholm-Cairo, N379P
01/11/2002 . . . Muhammad Saad Iqbal Madni, Indonesia-Egypt, N379P
04/18/2002 . . . Martin Mubanga, Zambia-Guantánamo, N379P
06/05/2002 . . . Omar al-Faruq, West Java-Kabul, probably N379P
05/14/2002 . . . Abu Abdul Halim Dalak, Omar Ghramesh, and an unnamed teenager, Pakistan-Syria, N379P
05/24/2002 . . . Abu al-Kassem Britel, Pakistan-Morocco, N379P
07/19/2002 . . . Mohamedou Ould Slahi, Jordan-Afghanistan, N379P
07/21/2002 . . . Binyam Mohamed, Pakistan-Morocco, N379P
09/28/2002 . . . Abdulsalam al-Hela, Egypt-Kabul, N379P
12/08/2002 . . . Bisher al-Rawi and Jamil al Banna, Gambia-Afghanistan, N379P
07/22/2003 . . . Saifulla Paracha, Thailand-Bagram, N379P
10/26/2003 . . . Salah Nasser Salim Ali and Muhammad Bashmilah, Jordan-Afghanistan, N379P
01/07/2004 . . . Abduh Ali Shaqawi and Hassan bin Attash, Jordan-Afghanistan, N313P
01/22/2004 . . . Khaled al-Maqtari, Baghdad-Kabul, N8068V
(see Amnesty International's report regarding al-Maqtari's case. Reports vary on the aircraft used to disappear al-Maqtari, see also Reprieve reports indicating al-Maqtari was rendered to Afghanistan simultaneously with Binyam Mohamed and Khaled el-Masri, below.)
01/22/2004 . . . Binyam Mohamed, Morocco-Afghanistan via Macedonia, N313P
01/23/2004 . . . Khaled el-Masri, Macedonia-Afghanistan, N313P
03/03/2004 . . . Mohamed al-Assad, Djibouti-Afghanistan, N379P
09/08 -09/09/2004 . . . Omar Deghayes, Libya-Guantanamo, N8068V (N379P re-registered as N8068V)
4/30/2005 . . . Abu Faraj al Libbi, Pakistan-Afghanistan, N4476S (N313P renumbered to N4476S in 2004 or 2005)
Where Are Rendition Aircraft Flying Today? – Terminal Air's Live flight data is no longer available via the preceding link. We are actively interested in hearing from those with computer skills that could help us acquire and share this data. Please CONTACT US if you can help.
PLANESPOTTING LOG:
| | | | |
| --- | --- | --- | --- |
| DATE | N-Number | Where? | Other Data |
| 2007 – Nov 28 | | FAY* | Reports note crash with substantial damage in Bucharest, during 2004. Previous landings in Bagram, Andrews AFB, and Guantánamo Bay, Cuba. |
| 2007 – Oct. 26 | | | Reports tell of a plane returning from overseas via Goose, Newfoundland , and Manchester , NH . TheCouncil of Europe reportlists this plane as involved in renditions. It's owned by Aviation Specialties, a CIA shell company. |
| 2007 – Aug. 29 | | | Recent flights to Shannon, owned by a CIA front company. |
| 2007 – Aug. 09 | | | |
| 2007 – July 24 | | JNX | |
* – Credible reports suggest Centurion Aviation Services (based at Fayetteville Regional/ Grannis Field – KFAY) is linked to the CIA and potentially to rendition flights. Scores of rendition-linked aircraft have flown from KFAY to Johnston County airport (KJNX). Some investigators suspect that the proximity of KFAY to Ft. Bragg implicates soldiers, sailors and other service members attached to the Special Operations Command with involvement in renditions operations.
---
Ghost plane photographed at Johnston County Airport, August 17, 2009
Two anonymous planespotters shared photgraphs of an aircraft inside Aero Contractors' hangar at the Johnston County Airport taken on August 17.
The aircraft appears to be N168D, a twin engine CASA C235-300 registered to Devon Holding and Leasing a brass plaque company organized by Lexington, NC lawyer and now Superior Court judge, Mark Klass.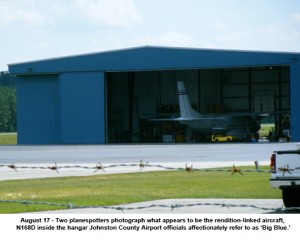 Shortly after this photograph was taken, the hangar doors closed.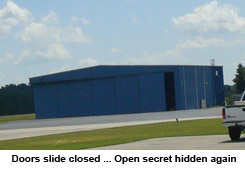 ---
Irish allies arrested meeting N478GS on arrival at Shannon
NCSTN planespotters had photographed the rendition-linked aircraft at Fayetteville Regional / Grannis Field, November 28, 2007
N478GS arrived at Shannon 1:30 a.m., November 29, 2007. Two Irish allies, alerted by NCSTN went to the airport in the public viewing gallery and had already requested the police to search the plane if it arrived. Instead, police arrived and arrested the anti-torture activists as the plane arrived at the terminal building.
The activists were released after about an hour.
Via e-mail, one of the activists wrote: "It will become an important test case to challenge why the Irish police have not (been) investigating or searching these CIA planes …"
The plane they met has been linked to secret prisons served by rendition flights was photograhed on the tarmac at Fayetteville Regional, November 28.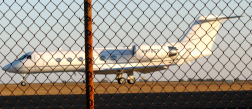 This twin-engine Gulfstream IV (pictured at right) with FAA registration number N478GS is the one that crash-landed in Romania last year, and is registered to L-3 IS, LLC of Great Falls, Montana. (Click on the image to see a more detailed picture.)
In September 2006, The Chicago Tribune reported that FAA records "show that … in addition to numerous visits to Europe and the Middle East, (this aircraft) made repeated landings at a half-dozen U.S. Air Force and Navy installations, including Andrews Air Force Base, near Washington, D.C., and the U.S. Naval Station at Guantanamo Bay, Cuba, where hundreds of suspected terrorists are incarcerated."
Centurion Aviation Services of Fayetteville operated the Gulfstream on behalf of its owners when it crashed in Bucharest.
---
NCSTN planespotters hustled to Johnston County Airport on the eve of our Peace Rally and Walk of Remembrance of Victims and Survivors of War and Torture
Click the image to see an enlarged view. Here are reports from the European Parliament about the aircraft's link to rendition flights.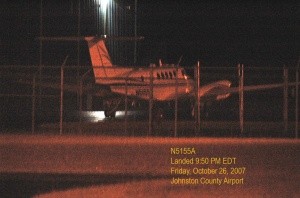 ---
NCSTN plane spotters photograph another suspicious aircraft at Fayetteville airfield
August 29, 2007 – Two planespotters photographed another rendition-linked aircraft at Fayetteville Regional/Grannis Airfield. This aircraft is registered to L-3 IS LLC, a Great Falls, Montana company thought to be yet another brass plate company doing front work for the CIA.
The aircraft is a Gulfstream IV and arrived from an airfield in Crestview, Florida where another front company, Tepper Aviation is based.
August flight logs show the aircraft barnstorming the southeast and landing at Shannon airfield near Dublin, Ireland.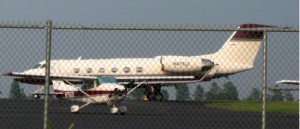 Aircraft above is N475LC at Fayetteville Regional (KFAY), click on the image to see in greater detail. The aircraft in the foreground is unrelated to extraordinary rendition. However, the image above can be verified by checking the Cessna's tail number — N7551S — in FlightAware.com (the site requires users to register, but the basic services provided are free)
---
NCSTN plane spotters photograph another suspcious aircraft at Aero Contractors' headquarters,
August 9, 2007
An anonymous plane spotter reported spotting another suspicious aircraft landing for service at Aero Contractors headquarters at Johnston County Airport. The aircraft was a CASA CN-235-300, with tail number N196D, registered to Devon Holding and Leasing, Inc. of Lexington, NC.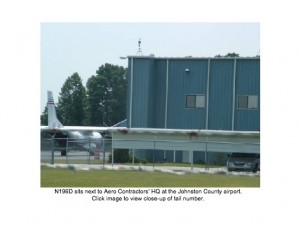 This plane has been the subject of Canadian and Danish parliamentary inquiries in connection with CIA rendition flights.
---
NCSTN plane spotters see a Ghost Plane
at Johnston County Airport, July 24, 2007
Two NCSTN activists identified and photographed (below) a ghost plane near Aero Contractors headquarters on July 24, 2007. This was a CASA CN-235-300, with tail number N168D, registered to Devon Holding and Leasing, Inc. of Lexington, NC.
(Click on the image to see greater detail.)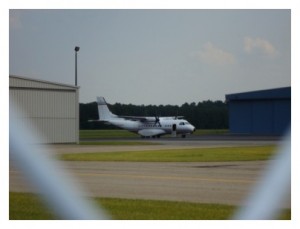 The company, widely reported as a CIA front, has blocked tracking of this aircraft via FlightAware.com.
As we continue watching Johnston County Airport (KJNX), the Kinston JetPort (KISO), and Fayetteville Regional/Grannis Field (KFAY), sightings of suspicious aircraft will be recorded and available at NCSTN's plane spotting resource page.
GUIDANCE:
There is no control tower at Johnston County Airport. (KJNX) Therefore, pilots of aircraft planning to land or depart there use a pre-arranged frequency to let other flyers know where their aircraft are positioned and where they're headed.
To monitor these conversations, tune a VHF scanner to: 122.8 MHz
Approach and departure is handled via Raleigh-Durham International, but can be monitored at JNX via: 125.8 MHz.
Aero Contractors' hangars are located just off-image to the left of the second perpendicular of tarmac intersecting the runway as one looks from the south end of the runway shown here:http://www.fltplan.com/AirportInformation/JNX.htm
Airplanes land and take off into the wind. So, when the wind is out of the south, aircraft must taxi past the public portion of the terminal located at 3149 Swiftcreek Road, Smithfield, NC.