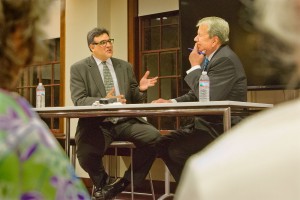 North Carolina was ready for the message about truth, fear, and torture that whistleblower John Kiriakou brought on his five-city tour.
Over 100 people attended a gathering with the former CIA officer at UNC's Carroll Hall on October 27.  Mr. Kiriakou explained how he came to confirm the CIA's use of illegal torture on detainees, and how the U.S. government retaliated against him.   The crowd was treated to a high-quality give-and-take between Mr. Kiriakou and award-winning WRAL journalist David Crabtree.  The event was sponsored by the UNC School of Law Human Rights Policy Lab, the  Center for Media Law & Policy, Center for Media Law and Policy; Peace, War, and Defense; Center for Global Initiatives; and NC Stop Torture Now.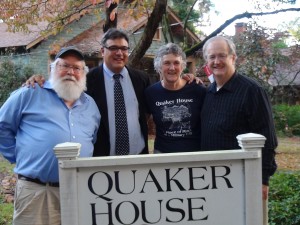 On Oct. 28, Mr. Kiriakou spoke both at Guilford College and at Quaker House in Fayetteville, North Carolina.  The latter event was the largest that Lynn and Steve Newsom, Quaker House directors, have hosted there.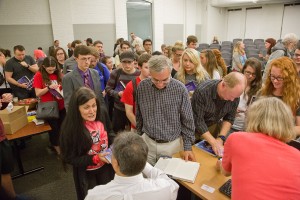 About 250 people turned out to hear Mr. Kiriakou Oct. 29 at NCSU.   The majority were undergraduate students, and many of them had to sit on the floor or stand.   Many lingered afterward to speak to Mr. Kiriakou, who sold out of his book, The Reluctant Spy.  The standing-room-only event was organized by the NCSU School of Public & International Affairs,  the NCSU Political Science Department, and NC Stop Torture Now.
Earlier on Oct. 29, John spoke to about 60 people at the Peace & Justice Forum in NCSU's Talley Student Center.  Many in the audience were members of the NCSU University Scholars,  an undergraduate honors program.  John also interacted with faculty and graduate students at a coffee hosted by the NCSU Political Science Department.
An appearance on the NPR affiliate WUNC's acclaimed show "The State of Things," an article in the News & Observer, and a column by the N&O's editor Ned Barnett were among the media highlights of Mr. Kiriakou's successful tour.  He received widespread appreciation as a hero for his courage in publicly acknowledging the U.S. torture program and enduring the high price that he and his family have paid.  An example is this letter-to-the editor of the News & Observer by Curt Torell.